Here he is, Louis in the Rain. Coloured with my fabby new Derwent Coloursoft pencils. They are lovely to work with and I have blended them with Sansodor spirit for that seamless colour.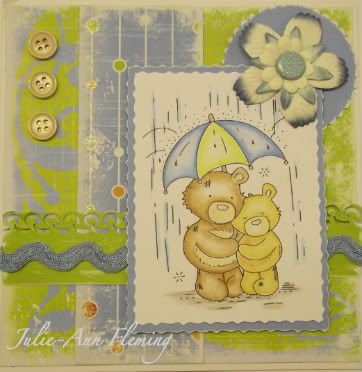 The papers used are from the TPC Celebration range (
Bee Crafty
), the plain colour's being the reverse of the patterns. Woodware border punch - wave. Length of wide blue ricrac ribbon and some Bee Crafty Blooms mounted on a die cut layer scalloped circle Nestabilities all held together with a large spotty brad from Dovecraft. Attach 3 comlimentary buttons to the left hand side and thats it.
Stampavie and More Challenge 89
Sophisticat Challenge Blog
Hope you like it...
and thanks for looking
Julie-Ann xx
p.s. tomorrow I'm off to a Derwent demonstration so hopefully when I come back I will have picked up a few tips to improve my technique.